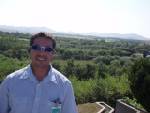 Grounded

Justin Toribio Carreño is a scientist with the Naval Oceanographic Office (NAVOCEANO), specializing in bottom sediment characterization and mapping with the use of GIS and side-scan sonar imagery in support of worldwide missions.



Having an eclectic background, Carreño, prior to his federal service, worked as a GIS Specialist and Hazards Analyst at the Wyoming State Geological Survey in Laramie, focusing on emergency management and homeland security projects for the Wyoming Office of Homeland Security and the Federal Emergency Management Agency (FEMA).





In his home state, Connecticut, he worked on projects related to GIS and environmental air and water quality with the University of Connecticut Map and Geographic Information Center (MAGIC) and the Environmental Research Institute (ERI).